Donate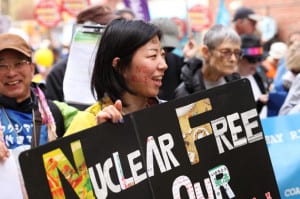 Since 2003, UFPJ has worked to build a movement that raises local voices for peace and justice to a global level. Today, we're investing in greater outreach to member groups and strengthening our collaboration with national coalitions on important work like supporting the Iran nuclear deal, addressing the Syrian crisis, ending the occupation of Afghanistan, and making the peace movement a powerful ally with the movements for racial and environmental justice.
Our work depends on your support. Donors who do not need a tax deduction can save us credit and fiscal sponsor fees by sending a check payable to "UFPJ" to:
UFPJ
244 Fifth Avenue
Suite D55
New York, NY 10001
If you require a tax deduction, you can make your contribution online, or send a check for $50 or more, payable to our fiscal sponsor, the "A.J. Muste Memorial Institute." This saves UFPJ credit card processing fees.  Please note "UFPJ" on the memo line, and mail your check to:
A.J. Muste Memorial Institute
339 Lafayette Street
New York, NY 10012

The Muste Institute is an organization qualified to operate under section 501(c)(3) of the IRS code; your donation is tax-deductible for the full amount allowed by law.